5G Antenna Replacements – Bristol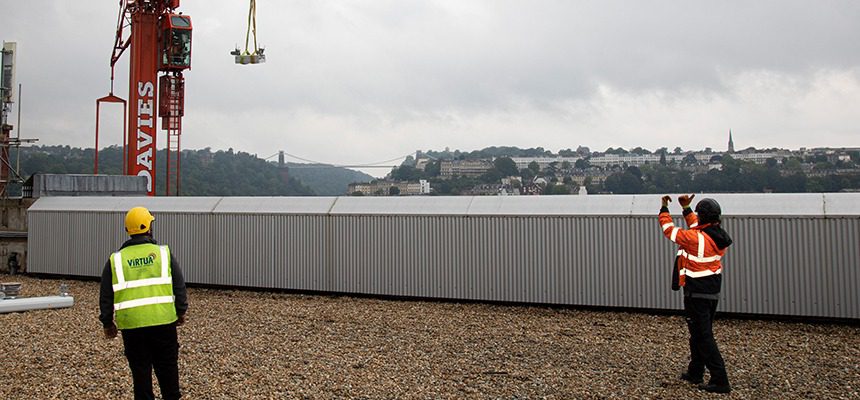 5G is a new technology that will bring a whole new connection experience for the end user through, faster speeds, higher capacity and a more reliable connection. Working in partnership with the major OEM's we are delivering 5G across the UK for two major network operators. This site located in Bristol involved replacing 6 legacy antennas located on the rooftop.
After a site survey it was decided due to the difficulty of access to the rooftop, the best method was to utilise a crane. This would enable the team to safely lift out and replace the antennas.
Works began by removing the metal casing surrounding the existing antennas and disconnecting the existing cabling. The antennas located in the middle of the rooftop had unsafe access so needed to be first scaffolded before works could begin.
Once ready, the crane then supported the weight of the antenna to enable the team to take off the remaining fixings for it to be safely lifted free.
Initially the design called for new steelwork, however due to issues with the site provider the existing steelwork needed to be re-used. This meant the team had to perform pull tests to ensure the steelwork and wall fixings could securely support the weight of the new antennas.
After the all clear was given, the new antennas could then be lifted into place. The 6 new antennas were carefully aligned and commissioned, ensuring the azimuth matched the data rigging sheets.
On each corner of the building we have installed 2 new antennas, 1 providing 4G, 3G and 2G, and the other will provide 5G once live. This ensures no loss of connection for users before the 5G switch over.
The old antennas were then sent back to the MNO (Major Network Operator) for decommission and recycling – ensuring no unnecessary waste.
The whole project took 6 days to complete, this included 1 day for the crane lifts and another day for the testing of the live antennas.
Now in place the robust antennas and fixings, will stand all weathers and last for many years without the need for upgrades. The MNO can now remotely unlock the 5G antennas, enabling them to provide a seamless 5G service for their customers.