Virtua are a leading provider of bespoke communications infrastructure services to the telecoms, broadcast, data and wireless industries. Founded in 2000, we now have 3 offices in the UK and over 250 people in our team. Whatever your communications engineering problem, we can help you.
See how our engineers are working throughout the UK ensuring you receive seamless and robust connectivity.
Virtua provides an end to end solution spanning the entire project lifecycle to various customers throughout the UK. Our approach reduces complexity and management overheads, resulting in effective project delivery.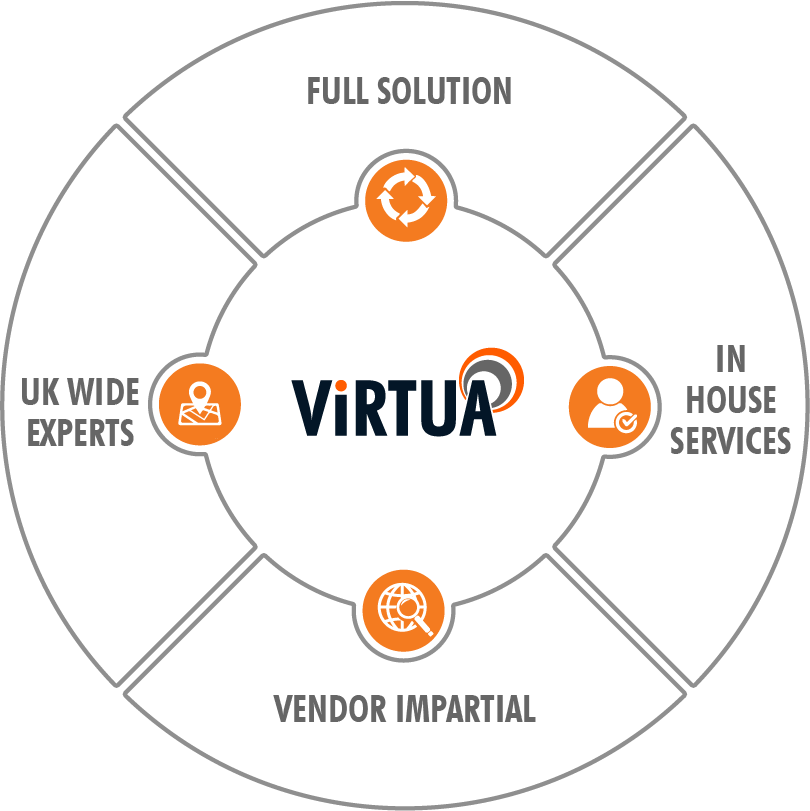 Full Solution
We offer a full turn key service enabling us to save you valuable time and money.

In House
We provide all of our services in house with fully inducted and approved delivery partners ensuring important communications are never lost.
Vendor Impartial
We are completely unbiased towards the vendors and technology we use, meaning we are always providing the best solution for your business

UK Wide Experts
Our teams have extensive training and certifications offering you quality service throughout the UK
We work in multiple market sectors, either using one of our services or a combination. 
"The professionalism and speed of delivery from Virtua was very impressive, their knowledge and accuracy on the project helped to enable our EE engineers to provide customers with a high quality network experience"
"The response time from Virtua was brilliant. The network installation required a broad range of skill sets and this was managed well by Virtua. We are very pleased with the level of support, and quality of work from Virtua"
"Virtua worked to an excellent standard, we have been impressed with their drive, determination, and tenaciousness of the whole team from warehousing to the field engineers"
"Virtua have provided their usual high standard of work throughout this project. The PM provided open and honest updates throughout the planning phase and execution of the build works which has enabled me to update our customer with confidence"
"Virtua is our first choice of supplier due to the long standing relationship and the high quality of support they have provided over the years"
For more information or a bespoke quote please contact us using the details or form below:
Find out more about how we use your data and your data rights. You can view the full version of our Privacy Policy
ACCREDITATIONS / certifications
ACCREDITATIONS / certifications