Nokia Beacon – Aylesbury Rugby Club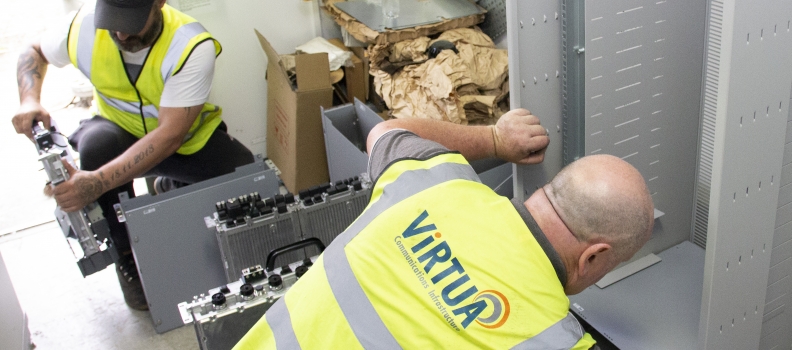 Virtua are currently in an ongoing partnership with Nokia to help complete their Telefonica Beacon project. The project involves upgrading existing 2G, 3G and 4G equipment and comprises of around 25-30 sites per week. Our work on Beacon began in 2016 with sites ranging from green fields, pylons, street works cabinets to rooftops located throughout the UK. We are also working at corporate sites such as Heathrow Airport, Twickenham Rugby Club, Facebook HQ, The BBC and Dyson.
Base Station upgrades form the majority of the scope of work with each upgrade taking 1 -2 days. Our team of 30 engineers are working around the UK helping Nokia complete a total network upgrade.
Each site involves a different solution, one example is that of Aylesbury Rugby Club. One of our 3 man teams were on site for 2 days to decommission and upgrade the existing Vodafone and Telefonica base station units.
Work progressed quickly with the existing units being disconnected and collected for recycling. The new units were then installed into the cabin and built to the required design specification. After the new units were installed and commissioned, test calls were made to ensure the upgraded base stations were performing correctly.
The Beacon project is very fast paced, as such our engineers are reactive to changes in scope or site, ensuring that each site goes back on air as quickly as possible to ensure limited down time.
The focus of this project is to provide the best customer experience for the end user. As such, upgrading the equipment at each site will mean faster data speeds and better quality of connection for Telefonica and Vodafone customers.